September 26, 2021

"Just Say No" - and other leadership principles.



Join a Small Group Today!
We have Small Groups for everyone.
Mixed Adults, Ladies, Married Couples, Jr/Sr High and College Age.
Attention all Small Group Leaders! There will be a Small Group Huddle at the Annise Home on October 3rd at 5 PM - Dinner will be provided, please bring your favorite side or dessert to share .
Please join us on Saturday, October 9th beginning at 9:00 AM, as we prepare the yard for our Homecoming Picnic the follow day on October 10th.
Join us after the service on Sunday, October 10th for a Homecoming Picnic until 5:00 PM (More information to come!)
Oasis Young Adult Ladies Book Club meets once a month.
Next Meeting -October 24th
Follow us on Instagram
instagram.com/theoasisnj
"Widows of Worth" -W.O.W. are having a luncheon meeting
on Thursday , October 14th at Noon in the Fellowship Hall
A time for encouragement & fellowship
Bring your own salad/sandwich & beverage.
Dessert will be provided
If you should need a ride, please call
Doris Hoffman 856-723-9209


Parents, We would like to add photos of our activities here at Clayton Baptist Church to our website and social media platforms. We would appreciate you filling out a consent form for your family.
Will you join us in prayer?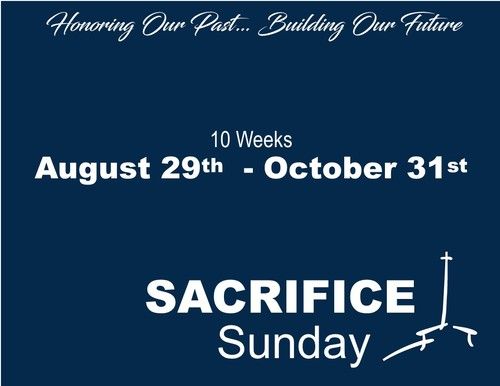 What is the Sacrifice Sunday Offering?
It is a special love offering to collect funds to offset the cost of the auditorium and foyer remodel.
Starting August 29th for 10 Weeks
We are asking you to prayerfully set aside an additional 1/10 (or more, if God places that on your heart) of your normal tithe each week.
We will take a separate offering for your Sacrifice Sunday Love Offering, these funds will be used to offset a portion of the $90,000 cost to remodel the auditorium
Please pray for God's guidance, as to what you should contribute to this much needed project.
Please Pray For Our Missionaries
Michael & Debbie Bannon
Pete & Dee Campbell
Ray & Sonja Cooper
John & Zorifah Cornish
Kathy Devlin
Fred & Joan Hartman
Philippe & Analee Israel
Samuel & Silvia Martinez
Jim & Heidi Mohney
Bud & Bonnie Morton
Craig & Andrea Shields
Tim & Melanie Shultz
Rio & Renata Sibarani
Francois Turcotte
Matt & Elizabeth VanWart
Rick & Diana Wilson

This Week's Giving
9/19/21
Weeks 21

Amount Needed Per Week
$ 7,042.00

This Week
$ 9,358.61

Total FYTD
$ 167,045.79

Average FYTD
$ 7,954.56